Repair Services
At some point every car or truck will need some type of repair.
Century Auto offers a wide variety of automotive repair services. We specialize in all major and minor work on all makes and models.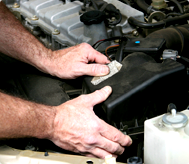 Tune-Up
A properly tuned vehicle has the best gas mileage, performance and lowest emissions. Tune ups are a great way to save money on gas and keep your car performing at its best longer.
Brakes and Suspension
Nothing is more important than brakes that work properly. Your family depends on your brakes. That's why we make sure your brake repairs are done right the first time. Your suspension keeps your wheels in contact with the road. If your ride has become too bumpy, bouncy or spongy, it is time for an inspection.
We value each and every one of our customers. We strive to provide you with such service that you can't help but tell your family and friends about us, as well as come back to us for regular service and repair needs.
We hold the quality of our service and parts to the highest standards. You can be assured we are using correct parts, and all work done is inspected and tested before your car is returned to you.
.